Underneath the $3 million house.
Not judging a book by its cover is vital when conducting building inspections. What was found underneath this Toorak house will astound you. The house, that cannot be disclosed for legal reasons presented beautifully inside and out. Even to the pre purchase building inspectors at Melbourne House Check, it appeared to be impeccably maintained. However, when they crawled the subfloor to inspect the condition of the frame, they were amazed at the poor condition of the house and the extreme lengths that had been taken to temporarily prop up the floor to avoid costly rectification. In one particular section of the house they found a tree log that had been utilised and strategically placed to prop up a bouncy part of the floor. Not only was the log used, but it had been packed up with timber off-cuts in order to support the floor load. In another position under the floor they found a stack of bricks that had been used to also support the floor frame.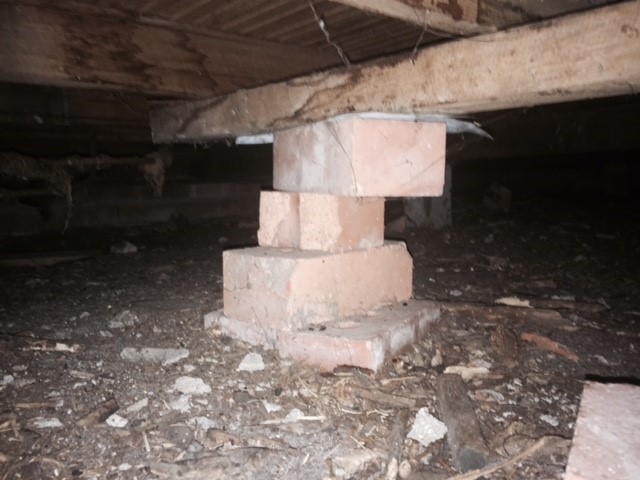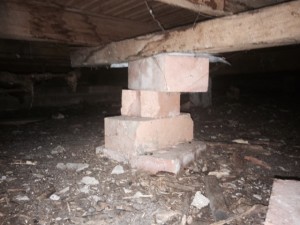 Brad Aylett-Sloan from Melbourne House Check says "We often see this sort of cost cutting measure in high end houses for sale. Simply because a house has a high price tag doesn't mean it is void of problems. Considering this house was being marketed at over $3 million, the general assumption of buyers is that all will be well as far as the structural integrity of the house. When a house presents well inside and out, it's even more likely that buyer's fears are allayed. In the case of this house in Toorak, the agent's marketed it as "impeccably maintained", which was simply not the case when it came to the structural integrity of the floor". Brad says, "It should be a reminder to prospective house buyers that laws governing house sales in Victoria stipulate that it is buyer beware. It's important to know that any defects, regardless of the size, do not need to be disclosed to a prospective buyer by the vendor. Therefor it is vital to undertake diligence such as a building inspection prior to purchase".
Melbourne House Check conduct pre purchase building and pest inspections throughout metropolitan Melbourne. If you wish to speak with a building consultant about a house you are considering, they can be contacted on 1300 729 352 or bookings can be made via the website at www.melbournehousecheck.com.au


https://melbournehousecheck.com.au/site/wp-content/uploads/2015/11/subfloor-1-e1447551404403.jpg
533
400
MHC
https://melbournehousecheck.com.au/site/wp-content/uploads/2016/01/mhc_new_logo-1.png
MHC
2015-11-15 11:43:31
2020-11-10 10:33:45
Underneath the $3 million house.