Termites vs Rot – Would you know the difference?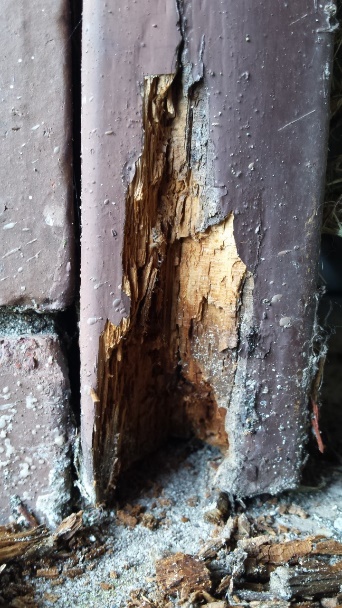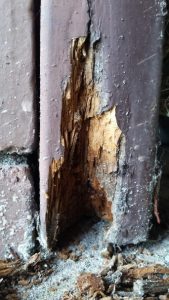 Termites are renowned for being very secretive and deceptive, but rest assured if you have them in your property our inspectors will locate them.  We have state of the art equipment and years of industry experience that ensures if they have taken up residency in your house, we will find them.
We had a call recently from a client who was alarmed because they were certain that they had termites in their house. He simply wanted us to refer them to a specialist who could safely remove the termites for him and ascertain the cost of restoration.
Upon further consultation and discussions over the phone, it was agreed that a building and pest inspection would be carried out by one of our experienced inspectors.  Upon review of the area during the site visit, it was found that the self-diagnosis of termite infestation by the client was incorrect, and wet rot was found to be the cause of the damage to door frames and other areas of the property.
As the treatment of termites vs fungal decay is very different, a correct diagnosis is imperative before arrangements for rectification can be made.
To follow is a letter from the client after the inspection :
Dear Melbourne House Check,
Just a quick note of appreciation for recommending I carry out a full building & pest inspection.  Your inspector was able to determine that the damage in our home was in fact wet rot decay and not termites as I had previously suspected. 
This expert advice has saved us lots of time and potentially thousands of dollars. You will be my first call if I have any other property concerns in the future.
All the best,
Glenn
 Melbourne House Check conduct inspections Melbourne wide.  For any enquiries or to make a booking, please call us on 1300 729 352, or contact us here online 
Related termite articles
Is your house at risk of termite infestation?
Termite infestation in new home under 2 years old
Self diagnosing termite issues
Inspection reveals termites may live here
One of these two houses has termites
I have termites in a tree stump outside, can they come into my house?
Related articles on rot
https://melbournehousecheck.com.au/site/wp-content/uploads/2017/05/Termite-or-rot.jpg
608
342
Nick Bielawski
https://melbournehousecheck.com.au/site/wp-content/uploads/2016/01/mhc_new_logo-1.png
Nick Bielawski
2017-05-09 05:22:50
2020-11-10 10:33:21
Termites vs Rot – Would you know the difference?