Termite infestation in New Home under 2 years old
1 in 4 Australian homes will be affected by termites in their lifetime. Regardless of whether you are building an extension, renovation, new home, or purchase of an existing property, it is vital for adequate termite protection to be installed to the property to prevent the access of these unwanted pests. If purchasing an existing property, it is critical that the history of the property is obtained and to check if termites have been previously present, or if a treatment has been recently completed on the property.
In our building and pest inspections, many things are taken into account when considering what is the best option for a treatment such as topography of the site, known risk factors of the area and construction techniques must also be taken into account.
In a new home, the builder is usually responsible for the installation of the barrier system and ensuring that it complies with the regulations and manufacturer's instructions. The owner also has some obligations.
The owner is usually responsible for ensuring that there are regular inspections to detect termite activities. These should be done at least every 12 months and more often in high risk areas and should cover the whole property within the boundary and not just the main building itself. If you do detect termites, do not disturb them or their workings in any way. It will be more difficult for a professional to eradicate them if they have been disturbed. If termites are found, call your builder or a pest control agent. Your local Master Builders will be able to give the names of competent and reliable operators.
Alternatively, Melbourne House Check can offer some contact information for reliable contractors upon booking of an inspection.
The following link is an article from the Herald Sun highlighting the increased risks of termites in Melbourne following last year's wet spring creating ideal conditions for termite infestation – conditions which have reportedly lead to a plague of the wood-chewing insects.
https://www.google.com.au/amp/s/amp.theage.com.au/victoria/home-invasions-rife-in-outer-suburbs-as-termites-make-a-meal-of-new-developments-20170103-gtlecv.html?client=safari
Last week, a Melbourne House Check inspector completed a Building and Pest Inspection in the eastern suburbs of Melbourne on a house that is less than two years old. Evidence of termite damage was noted to a stair balustrade on the upper level. A mud lead was also found in the sub-floor where they were getting access into the property. The owner had no records of the termite treatment that was installed at the time of construction, and the owner now faces the predicament and potentially costly exercise of figuring out the extent of the damage by removal of wall linings etc. Conditions in the subfloor void of the dwelling were very conducive to termite infestation including excess moisture (damp soil) and inadequate ventilation. A New Home Handover inspection at the time of Practical Completion would have picked up these deficiencies and may have prevented such an infestation.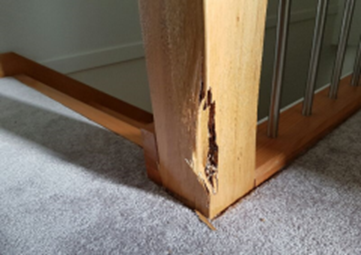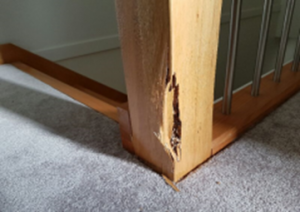 It just goes to show, new homes are just as susceptible to termite infestation as older homes and termite colonies do not discriminate. Regardless of the age of the home, call Melbourne House Check now on 1300 729 352 to have an inspection completed and put your mind at ease. Or contact us online with any questions you might have at https://melbournehousecheck.com.au/contact-us/
Read our other articles on termite inspections and termite damage
Is your house at risk of termite infestation?
Self diagnosing termite issues
Building inspections also look for termites
Pest inspections in Melbourne – conditions to look for
https://melbournehousecheck.com.au/site/wp-content/uploads/2017/02/termite-infestation.png
287
416
Nick Bielawski
https://melbournehousecheck.com.au/site/wp-content/uploads/2016/01/mhc_new_logo-1.png
Nick Bielawski
2017-02-27 13:49:55
2020-11-10 10:33:22
Termite infestation in New Home under 2 years old