Roof void defects in houses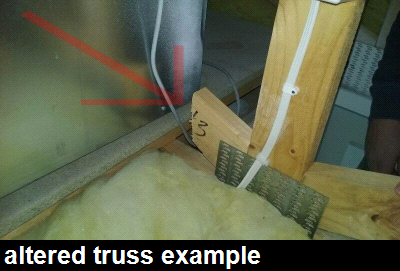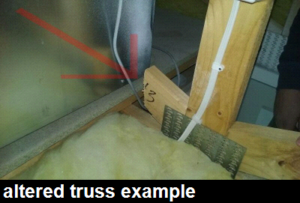 A thorough building inspection must involve accessing the roof void of a house, whether it be for a 100 year old property or a newly constructed dwelling. Too often Melbourne House Check encounter issues which greatly affect whether a purchaser may decide to withdraw from a contract of sale, or enforce the builder of a new home to complete rectification works prior to handover of  new property.
Some of the more common issues that we find in houses regularly when accessing the roof void include:
Missing insulation. This will greatly affect the thermal efficiency of a property, increasing costs in gas and electricity.
Cracked roof tiles that are sometimes difficult to detect from above, may be able to be detected from the roof void below. Many building inspectors will not walk on a tiled roof of an older home has they age and are easily cracked. We therefore ensure we view both sides to check for potential water leaks.
Inadequate downlight protectors. Often there is no protection around the downlights to prevent insulation coming in contact with the downlight and is a major fire hazard. Alternatively the protection is made from cardboard or other non-fire resistant product.  This greatly increases the risk of fire in a house.
In addition to these common issues, we sometimes come across major structural defects which require urgent rectification by a builder and/or carpenter where a roof may have sagged or deflected due to any number of reasons including: inadequate propping; size of hanging beams are inadequate; span of collar ties are too great; or the support struts have been incorrectly fitted – just to name a few. Termite attack is also another major cause of structural failure in roof spaces which is why we recommend that a pest inspection is also completed whenever a building inspection is carried out by Melbourne house Check.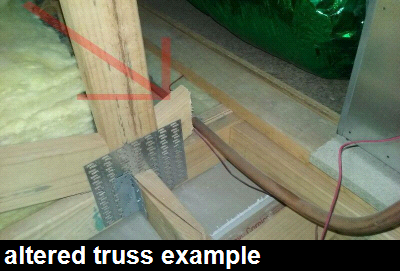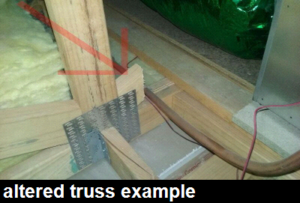 Recently Melbourne House Check carried out a New Home Handover Inspection at a property in the Eastern suburbs of Melbourne. The client had just had their dream home completed by one of Melbourne's largest volume builders, however what we found in the roof space was alarming.  When the heating unit had been installed in the roof space, five trusses in a row had been altered by removing the web (diagonal member of a truss) in order to fit the heating unit in the roof cavity.  No additional bracing had been installed to strengthen the affected trusses, nor advice provided by an engineer or the truss manufacturer prior to Melbourne House Check identifying this issue.  Over time, this defect would be very likely to cause deflection in the roof and indirectly cause a range of other structural problems with the property.  It was fortunate that we were able to identify this issue for the client ensuring that the builder completed all necessary rectification works prior to handover of the house.
It should never be taken for granted that just because a large well respected volume builder is completing the construction works, that everything will be ok.  A final handover inspection for new houses or pre-purchase building inspection for existing dwellings should always be undertaken.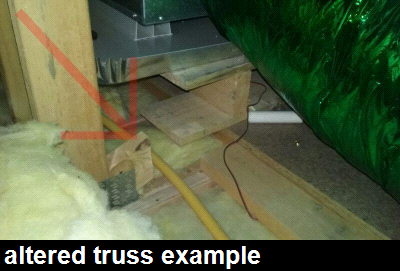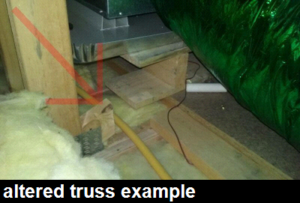 Melbourne House Check conduct new home handover inspections and building and pest inspections Melbourne wide. If you wish to speak with us about a house that you are considering, we can be contacted 7 days a week on 1300 729 352.  Or alternatively, complete our on-line survey request form and we will contact you to arrange an inspection.
https://melbournehousecheck.com.au/site/wp-content/uploads/2016/09/Altered-truss-example-1.png
271
400
Nick Bielawski
https://melbournehousecheck.com.au/site/wp-content/uploads/2016/01/mhc_new_logo-1.png
Nick Bielawski
2016-09-28 21:13:31
2020-11-10 10:33:22
Roof void defects in houses