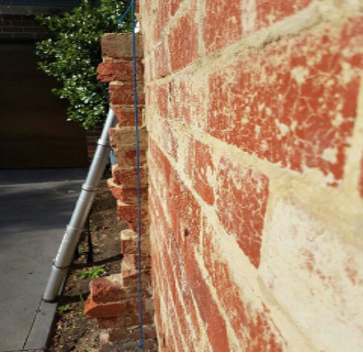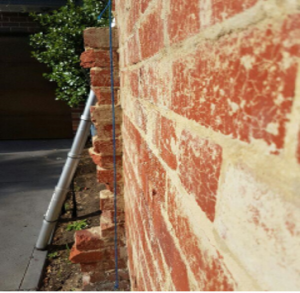 When undertaking a typical building inspection of a dwelling with brick or masonry cladding, one thing we always look at in detail is the condition of the brickwork.  This can tell us alot about the condition of the foundations below.  Cracked, leaning or rotating walls are a problem for many homeowners. These issues are normally caused by a foundation problem. If your foundation walls have begun to crack or lean, it may lead to other structural issues throughout the rest of the home.  It is vitally important to watch for the signs of foundation movement. That way, you can contact a foundation repair specialist as soon as you notice the problem to avoid further damage to your home.
Foundation movement can be caused by a number of reasons.  The most common issue that we encounter is excess pressure from the ground around the foundation, caused by groundwater and/or poor drainage.  This excess pressure causes the foundation to shift, and the cracks that open up can lead to further moisture penetration, and they will continue to deteriorate over time, or until they are repaired.
An issue that one of our inspectors encountered recently at a building inspection in the northern suburbs of Melbourne, was where a garage had been demolished, but the common boundary wall was left in position along the driveway (kids playing cricket and other ball games against the wall).  With the perpendicular walls and roof structure removed, the remaining wall lost all form of bracing, and it was noted by the inspector to be leaning excessively.  The wall was deemed to be structurally unsafe and posed as an immediate safety hazard.
Would you risk your safety or the safety of your family knowing that this wall could topple at any moment?
It is not always obvious to the untrained eye whether such defects are a safety concern.  It was fortunate that an inspection was carried out in order to avert potential disaster.
If you are looking at purchasing a property or have a concern with the one you are currently occupying, Melbourne House Check conduct building inspections Melbourne wide.
Please call to discuss any issues with our experienced team of inspectors or to obtain a quote on 1300 729 352. You can also find some further information or fill out an enquiry form online at melbournehousecheck.com.au
Related articles: 
https://melbournehousecheck.com.au/site/wp-content/uploads/2018/01/Brick-wall-leaning-check.png
354
363
Nick Bielawski
https://melbournehousecheck.com.au/site/wp-content/uploads/2016/01/mhc_new_logo-1.png
Nick Bielawski
2018-01-16 20:54:03
2020-11-10 10:33:21
Leaning brick walls