House Inspection in Lilydale uncovers defects
Matthew from Lilydale contacted Melbourne House Check to conduct a house inspection prior to the purchase of his new house. Matthew said the house was only 2 years old, and because it looked in fairly good condition he was considering whether a building inspection prior to purchase was even necessary. It was his first home and friends and family were telling him that a property inspection was important just in case there was something wrong that he couldn't see. Matthew said that it would be terrible if he bought it only to realize later that there was a structural defect, or a cover-up, or basically anything that was going to cost him money after settlement. Matthew says, "It was just a case of wanting peace of mind, knowing that a professional had looked at everything and given it the ok".
Arriving at the house it looked like a new house. It was neat inside, with hire furniture and the level of workmanship like plastering and painting looked good. Upon accessing the subfloor of the house conditions also looked all well. It was dry, the level of workmanship looked good as far as the frame and stumps, however on closer inspection underneath the wet areas of the house it was not so great. It appears that plumbing under the main bathroom was unfinished whereby a plastic bag had been used to block off a sewer pipe and underneath the ensuite, a stack of bricks had been used to temporarily support the sewer pipes. See the photos below.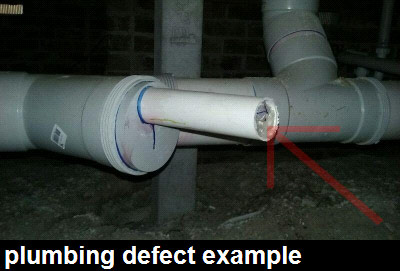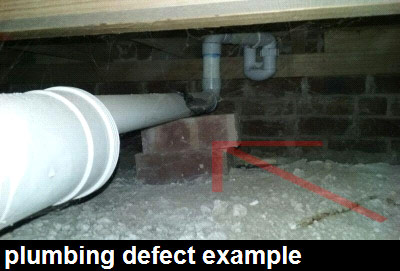 It just goes to show that the old saying "don't judge a book by its cover" is more often than not good advice when it comes to buying a house. Matthew says he is now assured that having a house inspection prior to purchase was absolutely the right thing to do, and that he feels he can rest easy knowing that all is well. In this case, because he bought the house subject to a building and pest inspection, that upon notifying the vendor about the problems, they were fixed immediately without any delay to the sale process.
Matthew say's to other people weighing up having a house inspection prior to purchase. "I was considering saving the money to be honest, but after my friend convinced me to have an inspection I organised Melbourne House Check to conduct the inspection. The process was quick and the conversation I had with Brad afterwards was really worthwhile. Even though he identified some problems, I feel really comfortable that all is well. I highly recommend having a house inspection prior to purchase. The feeling of peace of mind is good."
Melbourne House Check conduct pre purchase house inspections Melbourne wide and can be contacted on 1300 729 352.


https://melbournehousecheck.com.au/site/wp-content/uploads/2015/08/lilydale-house-inspection.bmp
200
333
MHC
https://melbournehousecheck.com.au/site/wp-content/uploads/2016/01/mhc_new_logo-1.png
MHC
2015-08-24 15:19:26
2020-11-10 10:33:45
House Inspection in Lilydale uncovers defects