Throughout the time we have been conducting Pre-Purchase House Inspections, we get countless questions from home buyers, home owners, renters and real-estate agents about asbestos. Will you be able to identify whether asbestos is present? Will you test for asbestos? Can you identify whether this or that material is an asbestos product?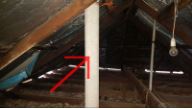 Our inspectors here at Melbourne House Check have significant experience in the building industry and can identify many of the signs that might indicate whether a product contains asbestos, however to be clear – even for a fully trained asbestos specialist (which our inspectors are not), it is impossible to determine whether a product does or does not contains asbestos until a sample has been taken and tested under laboratory conditions.
Note : asbestos materials present as a serious health hazard and exposure can cause serious health issues and asbestos-related diseases that can take may years to become evident. For more information visit https://www.mesothelioma.com/.
In Australia, the use or import of asbestos products was banned in the mid-1980s. However over 3000 building products were manufactured containing asbestos, and if your property was constructed prior to 1986, unless constructed entirely of metal and/or wood it is likely that some aspect of the property contains asbestos.
Some items that our inspectors regularly come across that may contain asbestos include:

Cement sheet asbestos cladding

– both internal and external linings

Cement sheet asbestos eave linings

Cement asbestos heater and Hot water service flues

Vinyl floor tiles

(backing and adhesive used to keep them in place can contain asbestos)

Corrugated cement sheet roofing

Backing linings of switchboards / meter panels

Vermiculite insulation in roof spaces

Some other asbestos products that are less common, but still appear from time to time include:

Water pipe insulation in subfloors and roof spaces

Linoleum floor covering

S

prayed-on insulation

Caulking and putties

Ceramic tile

s and grout
The list of products that MIGHT contain asbestos sometimes appears to be endless.
If you are looking at purchasing an old home, it is likely that it will contain some asbestos.
In
most cases, it's not a major concern
. Asbestos doesn't do any harm as long as it remains intact and nobod
y breathes in the asbestos fibres. Our inspectors at Melbourne House Check will be able to help identify whether there are any materials in or around a dwelling
that
MIGHT
contain asbestos, the general condition of the identified material, and whether further testing will be required by a suitably qualified professional.
Melbourne House Check conduct Pre-Purchase Building and pest inspections Melbourne wide. Please call on 1300 729 352 if you have any further questions where you can talk to, or make a booking with one of our highly experienced inspectors. Alternatively, for further information, or an online enquiry / booking can be made at melbournehousecheck.com.au
https://melbournehousecheck.com.au/site/wp-content/uploads/2017/08/Asbestos-Inspections-Melbourne-House-Check.jpg
109
193
Nick Bielawski
https://melbournehousecheck.com.au/site/wp-content/uploads/2016/01/mhc_new_logo-1.png
Nick Bielawski
2017-08-14 20:52:01
2020-11-10 10:33:21
Facts about asbestos